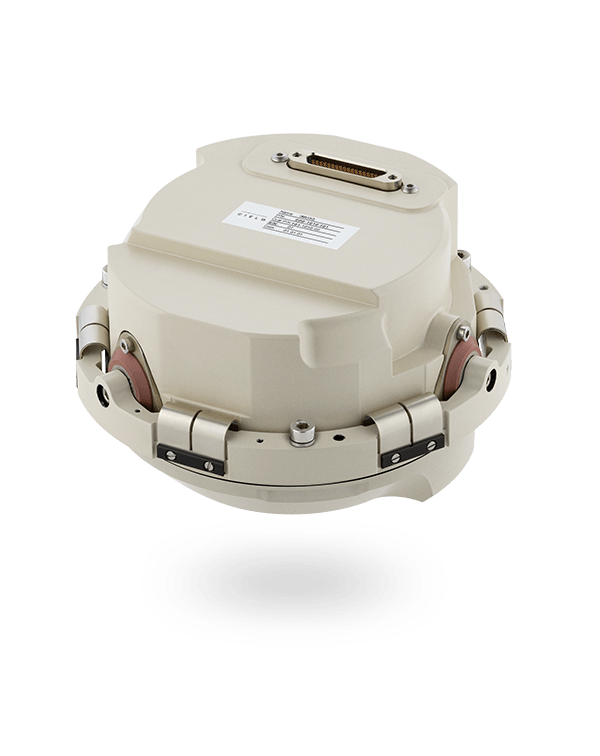 IMU 32 & 32xp
Tactical inertial measurement unit
The IMU32 is a small, lightweight, high vibration and shock resistant Inertial Measurement Unit (IMU), suited for reference, control and navigation solutions for defense and commercial applications. It employs the latest closed-loop fiber-optic gyro (FOG) and linear rebalanced accelerometer technology. The IMU32 is suitable for harsh vibration environments and has the same form, fit and function performance as other commonly used IMU's.
Compatible for the following applications:
Guided Munitions
Guided weapons, smart munitions, Air to ground weapons
Torpedoes
Light and heavy weight torpedoes
IMU32/IMU32XP Benefits

Two optional grades:
The IMU 32 is offered in two performance grades, in the same form factor.

Compatible with legacy IMU products
Form, fit and function performance replacement for other known IMUs.

High Vibration and Shock Resistance
Vibration protected configuration for environmentally demanding applications.

ITAR-Free
Our products are ITAR-free and are entirely designed and developed in-house
Technical Information
The IMU 32 is a tactical grade IMU containing closed-loop fiber optic gyros and linear rebalanced accelerometer technology. The IMU 32 is a versatile inertial measurement instrument and has a variety of configurations, supporting both navigation and control messages, several communications regimes tailored for different applications, with interfaces matching a legacy FOG unit. The IMU32 and the IMU32XP offer great SWaP to performance ratio. Similarly to other Cielo products – the unit supports an advanced BIT with detailed fault isolation.

Cielo_IMU32_Datasheet
Parameters
IMU 32
IMU 32 XP

Gyro

Bias repeatability (day to day) [°/hr]
< 0.2
< 0.05
Bias residual (over temperature) [°/hr]
< 0.5
< 0.1
Bias stability (constant temperature) [°/hr]
0.1
0.03
Dynamic Range [°/sec]
±1500
±1500
Angular Random Walk [°√hr]
0.02
0.008
Scale Factor Linearity [ppm]
30
30

Accelerometer

One year bias composite error [ug]
1000
1000
One year SF composite error [ppm]
1000
1000
Dynamic range [g]
70
70
EXPLORE MORE OF CIELO ADVANCED SOLUTIONS
SUCCESS STORIES
Cielo Inertial Space Solutions
Space applications require accurate, high bandwidth systems.
Additional unique requirements include the absolute need for observation systems to provide
line-of-sight stabilization pointing and to overcome the behavioral problems often caused by radiation in space.
Explore Success Stories
SUCCESS STORIES
DIMU
Cielo has developed an advanced new generation IMU system
based on the closed loop Fiber Optical Gyroscopes (FOG) and linear rebalanced accelerometer technology.
Explore Success Stories